If you are looking for a smartphone that is jam packed with premium features and don't mind spending a little extra money for these worthwhile additions, then look no further than the Samsung Galaxy S23 Ultra 5G. This 5G capable phone contains Samsung's fastest mobile processor ever as well as a camera with the highest resolution offered on a phone. The S23 Ultra has a durable build, sleek design, powerful cameras, helpful S Pen, and much more. To learn more about the features that this top-of-the-line smartphone offers, keep reading.
Display + Battery
The S23 Ultra's frame is made of Samsung's Armor Aluminum, which is an alloy Samsung created that is stronger than traditional aluminum, and Corning Gorilla Glass Victus 2 is found on the front and back. Besides being durable in case of a drop on concrete, the phone is also durable against water and dust. The phone boasts a robust IP68 rating. This means it's fully protected against dust and can survive up to 1.5 meters of water for 30 minutes.
The screen is a 6.8-inch AMOLED with a maximum refresh rate of 120Hz. This higher refresh rate means smooth navigation between webpages and apps as well as an improved gaming and entertainment experience. Movies will look more vivid and lifelike and gaming will have less lag and buffering. The phone can reach up to 1,750nit when outdoors. This means that you will have no problems seeing your screen while outside in bright, direct sunlight.
The S23 Ultra features a 5,000 mAh power pack. You can browse the web, watch a movie, use GPS navigation, and play video games all day without breaking a sweat. This phone has up to 44 hours of talk time which means you can go more than a day on a single charge. Plus, compared to other earlier versions of the Galaxy phones, the S23 Ultra has had a processor upgrade which has helped increase its battery efficiency. No matter what tasks you need to tackle, the S23 Ultra has more than enough juice to complete them.
Processor
The Samsung Galaxy S23 Ultra is powered by Snapdragon 8 Gen 2 for Galaxy, which is the fastest Snapdragon ever. This powerful processor means that you can handle high intensity games, download multiple apps, and host video calls with ease. Plus, with the extraordinary image and video quality that the chip provides, you can count on this phone to handle all your entertainment needs.
Camera
The S23 Ultra's camera system is one of the best on the market. It comes with both a 3x and 10x telephoto lens, an ultrawide, and a 200-megapixel main camera. Whether you want to take a large group photo, a closeup of the moon, a sports action shot, or a photoshoot at night, the S23 Ultra can handle it all. Every picture it takes is vivid, detailed, and lifelike. Along with the amazing cameras themselves, Samsung has built-in features that can help you level up your photography game. Click here to read more about grid lines, portrait mode, and more.
S-Pen
In addition to amazing raw photos, the S23 Ultra can help make your edits crisp and clean. With the inclusion of the S Pen stylus, drawing on your screen is simple. S Pen for Galaxy S23 Ultra was designed for smooth and precise creation with a 0.7mm fine tip and 4,096 pressure levels for an all-natural feel. Plus, with built in controls, the pen can help you navigate your phone quicker and easier than ever before. Open the Air Command menu with a click of the S Pen button. Simply hover S Pen over the screen and click the button on the side to pull up features like Smart Select, Screen Write, Live Messages and more. Through Bluetooth technology, you can snap pictures, switch between cameras, pause or turn up your playlist and so much more by a simple click of a button or a swish of the wrist.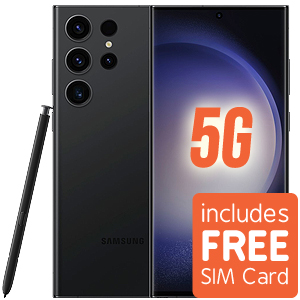 The Samsung Galaxy S23 Ultra 5G is a durable, fast, and top of the line smartphone that gives you the most bang for your buck. Snapping pro-level pictures and downloading powerful applications has never been easier. If you want to learn more about this phone's amazing features and add it to your cart, click here.
Follow us