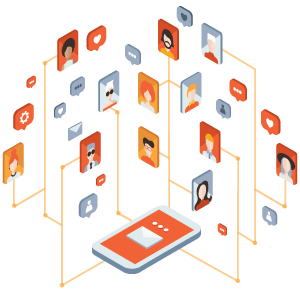 Apps to enhance your
Twigby experience.

SPIN Safe Browser
Consistently rated one of the top safe web browsing apps for Android, SPIN Safe Browser is your perfect sidekick for ensuring that your children stay safe online. SPIN Safe Browser filters and blocks millions of websites including adult sites, gambling sites, drugs, alcohol & tobacco, and more. There's nothing to configure and no login or sign up. Simply remove browsers from your children's phones that you don't want them to use and install SPIN Safe Browser.

Secure Teen Parental Control
SecureTeen Parental Control is a simple and convenient way to monitor your child's online activity. All you need to do is install the app as the default web browser on your child's device and you can start staying updated on their internet usage. Filter inappropriate websites/categories, view the websites they access in real time, track their Facebook activities, and even remotely manage their device through an online dashboard.

Mobicip Safe Browser
Mobicip Safe Browser is the most popular parental control app. Pitched as a direct replacement for Safari for children, Mobicip Safe Browser allows parents to set filters based on age or category. Additionally, Mobicip Safe Browser has advanced real-time analysis content filtering to quickly analyze and rate every single website, blog, or piece of web content as it is accessed.

Glympse
Glympse is a fast, free, and simple way for your child to share their location safely using GPS tracking in real-time with friends and family. One of the best parts about Glympse is that there is no sign up required. Only those that you select your child to share with can view their Glympse from any web-enabled device.

Life360 Family Locator
The Life360 Family Locator helps you quickly locate family members on a map. Open the secure FamilyChannel™ and you can chat with everyone at once. Constant communication keeps your mind at ease by knowing your family members are safe when they reach their next location. View real-time location on a private map, receive real-time alerts when your child arrives or leaves from their destination, and even see their past location history.

Family GPS Tracker
The My Family App is an easy-to-use, real-time location tracker. Also, the My Family app does not require registration and makes no reference to capturing any personal data, which is a plus. Additionally, the My Family app provides a nifty "Kid Mode" function. When Kid Mode is turned on your child's phone, they won't be able to turn off location services or change the app's settings.

SpotWifi
SpotWifi is a hands-off app. Despite some trouble with open hotspots, it still manages to connect. It also contains a map that provides directions to nearby hotspots through Google maps. You can privately add your own personal hotspots to the app and it will connect to them once in you are in range.

Osmino
Osmino provides users with access to fast and free internet using its WiFi manager to accomplish automatic connection to free WiFi, as well as allowing users to share public hotspots or private WiFi hotspot passwords across the world. You turn on the automatic search and connection to open WiFi networks with one click.

Wifi Master Key
WiFi Master Key is a simple to use WiFi manager that helps you search and connect to all available WiFi hotspots in your area. It allows you to quickly connect to shared WiFi hotspots in one click.

Freetone
Freetone has most of the necessary phone features for the cheapest price. International calls can be placed by watching ads to earn credits, but U.S. and Canada allow unlimited free calls and texts. There are some ads after placing a call, but none during the call.

OTO
OTO Global is similar to other international long distance apps because it requires money to call, but the rates are more consistent. The setup is relatively painless, and you can buy a new number from them to use. The user interface is easy to use and contains several useful menus on the homepage. Initial setup does not require an email and password, but setting up an account that does will earn you a free 3-minute call.

Skype
Skype has exceptional WiFi calling, messaging, and video calling between users. Calling and texting non-skype users requires either a subscription or a pay-as-you-go plan. With either of these, you can only make calls, not receive them. The UI is simple and attractive, with quality WiFi calling.

Freetone
Freetone has most of the necessary phone features for the cheapest price. International calls can be placed by watching ads to earn credits, but U.S. and Canada allow unlimited free calls and texts. There are some ads after placing a call, but none during the call.

Google Hangouts
Google Hangouts works very similarly to Skype. You can use Google Hangouts to make WiFi calls to any phone number. And, almost all calls to any number in the U.S. and Canada are free from all countries where Hangouts calling is available. Every call to another Hangout user is always free.

BIG Launcher
BIG Launcher makes Android smartphones usable for those who have trouble reading their smartphone screens by creating large icons and text to make it easier than ever to see the apps, options, contacts and more. Visually impaired users can use the large, simple interface with ease. And, BIG Launcher also features an SOS button to call for help.

Visor Magnifier
Available for both Android and iPhone, Visor Magnifier is a nifty app that quickly turns a phone's camera into a magnifying glass, making it an excellent tool for those who have trouble reading. Visor Magnifier works by enlarging difficult to read text by up to 4x as well as changing contrast with 5 different settings. Also, the magnifier lets users turn on their phone's LED flash to help with vision in low-light conditions.

Medisafe Meds & Pill Reminder
Medisafe is a very useful app that helps you keep track of your medications, supplements and vitamins, reminding you when to take your pills as well as keep track of blood pressure, glucose and other measurements. Also, with Medisafe, you can easily share results with doctors.