The BLU View 3 is a great option for anyone who wants a smartphone without the high price tag. Although this smartphone comes at a low cost, it is equipped with many high-end features. Performance, storage, and battery are qualities that make this budget friendly smartphone stand out. In today's phone market, there are many options between a basic flip phone and a super high-end smartphone. The BLU View 3 is a great middle of the road option for anyone who wants the most bang for their buck.
Performance & Display
This phone runs on an Octo-core processor which delivers excellent display quality alongside stellar phone power. The processor operates up to 2GHz which enables smooth phone performance at reliable speeds. At this affordable price point, the processor stands out among the competition. While viewing graphics on the 6-inch, 1440×720 resolution screen, you will surely be amazed by the color quality and swiftness of the graphics. The smartphone also has 3GB of RAM. This is the perfect amount to ensure that you can switch between your favorite apps without any interruptions.
Storage & Android 11
The BLU View 3 offers 32GB of internal storage. This is more than enough for most people, but if you love taking pictures and trying out the newest apps and games, you may want to opt for an external microSD card as well. You can use up to a 128GB microSD card for extra storage which is a significant addition for a phone in this category. Plus, if you really love saving photos on your smartphone, this article is something you probably want to check out.
Android 11 is the current operating system for the BLU View 3. This operating system was designed and optimized with usability in mind. Users now have access to powerful device controls which makes managing conversations and privacy much easier. For example, now you can quickly change what device your media plays on. You can control if it comes from your speakers, your headphones, or any connected devices within your house all from one screen. Controlling your privacy is also quick and easy. You can give one-time permissions to any of your apps that access your mic, camera, and location. As soon as you use the app again, these permissions will be displayed once more. This allows you to stay protected and secure by giving you more of a choice. Android will also reset permissions for apps that you haven't used in a while.
High Quality Battery & Camera
This phone's battery offers up to 22 hours of talk time. On standby, the battery can stay charged for multiple days at a time. For a budget friendly smartphone like the BLU View 3, this battery offers just the right amount of power while still being reliable and efficient.
Just like the battery, the camera offers exactly what you'd expect from a mid-tier smartphone. This phone has an ample 13MP rear camera and 8MP front-facing camera. So, whether you want to capture an exciting moment with your friends and family or take a selfie, the BLU View 3 has you covered.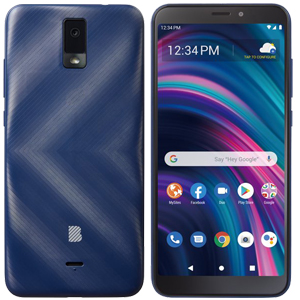 The BLU View 3 is for anyone who wants a smartphone that is easy to use and performs the way that a budget friendly phone should. Battery, storage, and performance are some of the most important qualities to consider when choosing a phone, and the BLU View 3 has you covered on all fronts. To learn more about the BLU view 3, click here.
Follow us