The holidays will be different in 2020, and there may be some added pressure to get that perfect gift this year to offset the non-traditional celebrations. With Christmas almost a month away, it is time to get your holiday shopping started. According to a recent study, smartphones are the most preferred Christmas gift for teenagers. At Twigby, we know selecting a cell phone service for your kid is a big decision. If you have been considering getting a cell phone for the kids on your list, we have found just the right ones to bring them joy and allow them to stay connected safely to all their friends and family.
From a budget and safety perspective, our cell phone plans will help ease your concerns. You can choose to have no data and use wi-fi only at home or set a data cap with overage protection on so they cannot go over data for the month. Twigby service also uses two of the nation's largest networks. This assures quality coverage at a fraction of the price.
At Twigby, we try to meet the needs of both parents and kids. You can manage your child's account and change plans easily through our website or Twigby app. Plans start at only $9 a month and come with a no risk 30-day satisfaction guarantee.
How do you know if your kid is ready for a cell phone? Are they ready for more independence? Are they mature enough to care for the phone responsibly? There isn't a magic age. Every kid is different, along with parenting styles. You know your child best. At Twigby, we offer a variety of different phone options to our customers.
Good Starter Phone: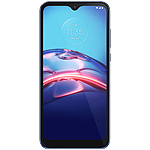 For parents of older kids or those wanting a smartphone, the Motorola E is a great, yet very affordable phone with a water repellent design to protect the phone, a dual camera and a fingerprint reader for simple use. Many parents wish to control screen time, limit the type of content and track location. There are free apps available on a smartphone such as this that can do those things.

Twigby offers parental controls, significant savings and a 4.5 star rating from Google Customer Reviews. This information can give you some peace of mind this holiday when selecting a cell phone service for your kid. One of our customers stated, "I wanted to use Twigby for my kids' phones first. It worked so well on their phone that I switched my phone to Twigby too. Thank you for saving us money and providing great service." By Beth P. from Michigan
If you think it would be helpful for them to have a phone but are still cautious, we can also show you ways to limit the sites your child can view on their phone. Learn more about that here.
You want to give your kid the best present possible. Brighten the holiday and give them a way to stay up to date with their friends during a time of social distancing and long winter months.

Follow us