The Samsung Galaxy A14 is a standout budget-friendly phone that offers 5G capabilities at an affordable price. While you don't have to worry about breaking the bank with this smartphone, you also don't have to worry about missing out on any great features. At a fraction of the price of the high-end flagship phones on the market today, the Samsung Galaxy A14 has exceptional battery life, stunning visuals, and a quick, sharp camera. If you would like to take advantage of faster download and upload speeds along with improved connectivity along with the features mentioned above, keep reading this Samsung Galaxy A14 review to learn more about what it has to offer.
Display
The Galaxy A14 has a 6.5-inch LCD Full HD+ display with a resolution of 1080×2400 pixels. This display is an improvement from the last model. This means that you will have no problem viewing the graphics on videos, pictures, and games. Along with sharp graphics, this phone boasts a 90-Hz screen refresh. Compared to other budget friendly phones at the same price point, the Galaxy A14 offers a faster refresh rate. Users will have a smoother experience when scrolling and there will be less lags when loading graphics which makes for a more pleasant viewing experience.
Battery
Most of us are always on the go, whether it be for work, school, travel, etc. So, it is important that we don't have to worry about constantly charging our phones. That is why battery life is a key feature that many people look at when buying a new phone. The Galaxy A14 stands out among its competition when it comes to battery life. This budget-friendly smartphone boasts a 5,000 mAh battery which can last 2 days on a single charge. Even on busy days with lots of scrolling, browsing, game-play, and viewing, this phone won't require recharging every single night.
Camera
The Galaxy A14 has a 50-megapixel primary camera and a 13-megapixel front camera. These cameras offer great results at an affordable price. This phone snaps pictures quickly with bright colors and crisp details. You will also be able to snap great pictures in lowlight with the Night Mode feature, which can be used for your front camera selfies as well. The Night Mode feature loads fast and offers pictures with great quality which is hard to come by for budget phones. In addition to the cameras, there is a 2MP depth sensor and the 2MP macro lens. The macro lens allows you to capture extreme close-up shots if you have a good amount of light. Learn how to take great pictures on any phone by clicking here.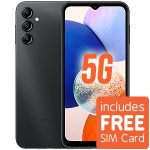 Overall, the Galaxy A14 is an affordable smartphone with many great qualities and features. Whether you want stunning visuals, a long-lasting battery, or a great camera, this phone has you covered. You don't have to miss out on quality when buying a budget-friendly smartphone. We hope this Samsung Galaxy A14 review helped but if you want to learn even more and see how little it would cost you to get this phone from Twigby, click here.
Follow us