The Samsung A54 5G brings users 5G capabilities in a phone that is packed with features and technology to enhance durability and user experience. This phone has a long-lasting battery that allows you to keep doing what you love for longer. Without having to break the bank, you can get stunning cameras, smooth browsing, sustainable storage, and many more high-end features on this amazing phone. Keep reading to learn why the Samsung A54 stands out.
Design
The Samsung A54 has a durable frame and solid display that makes watching videos, playing games, and refreshing websites enjoyable and seamless. This phone has sturdy glass panels on the front and back that help enhance this budget-friendly phone's durability. Plus, the phone is rated IP67 which means it has some protection against water immersion as well as complete protection from dust. This rating is a great achievement for a phone at this affordable price point. Along with robustness and preservation, the display is great for entertainment with its 6.4-inch screen size and 120Hz refresh rate.
With this impressive refresh rate, this phone makes viewing content smooth and delightful. Whether you are surfing the internet or playing a challenging mobile game, having a 120Hz refresh rate will enhance your user experience in any scenario. Scrolling on websites becomes more smooth and less choppy and spotting targets and reacting accordingly is easier. The screen brightness on this phone can reach up to 1000nits. This means that it is easier to see the screen outside in bright, direct light. So, you can continue to surf the web and beat more game levels no matter the lightening situation you are in.
Battery + Storage
The Samsung A54 has a 5,000mAh cell.  The size of the battery is about the largest that is offered on a smartphone of any price. This battery lets you get up to 41 hours of talk time on a single charge, which is a great accomplishment for such an affordable price. Plus, this battery helps you power through a whole day of internet use, movie watching, game playing, and navigation without dying in the middle of it.
128GB of internal storage is offered along with 6GB of RAM. This amount of RAM is perfect for multi-tasking on your phone. You can hop back and forth between multiple apps without any issues such as the apps closing out on you. Having 128GB of storage is perfect for most average users. It allows you to store all your favorite music, movies, photos, and apps with ease.
Video + Camera
This phone offers not only a 32-megapixel front camera, but also a 50-megapixel main rear camera, a 12-megapixel ultrawide camera, and a 5-megapixel macro camera. Depending on what you are shooting, you have many camera options to get the right shot. This flexibility is an amazing addition to this phone.
The phone offers VDIS (Video Digital Image Stabilization) which helps you shoot high-quality, pro-level videos by automatically reframing and autofocusing. With the inclusion of an advanced image sensor, the phone is able to hold its weight in different lighting. During night shoots in low lighting, its performance is memorable.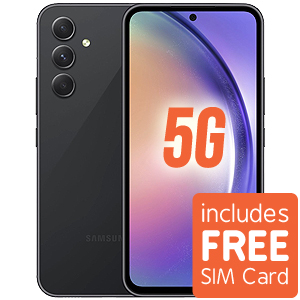 Overall, the Samsung A54 is an affordable smartphone when you look at all the great qualities and features it has. Whether you want to surf the web or play mobile games, this phone helps you do both with ease. We hope this Samsung A54 review has helped guide you. If you want to learn more and see how much it would cost from Twigby, click here.
Follow us