The Samsung Galaxy S23 5G is a great smartphone that is packed with features to ensure you get the most value for your money. This phone stands out as one of the best choices for everyday use. The S23 has usability in mind, and delivers a great design, jam packed cameras, long-lasting battery, and lots of storage. Whether you're surfing the web, streaming videos, or playing a game, the S23 can tackle it all.
Design + Display
Compared to other smartphones on the market, the Samsung Galaxy S23 stands out big because of its small stature. While smartphones have continuously increased in both size and price over the years, this phone is unique with its smaller 6.1-inch AMOLED display. This is a perfect size to use the phone with just one hand. Watching movies and tv shows for long periods of time is comfortable because of the better grip that is offered by a smaller phone size. In addition to this ergonomic grip, the phone is less clunky in your pockets or handbags.
The small screen packs a big punch when it comes to brightness and refresh rate. This phone can reach up to 1,750 nits while outdoors. You won't have any trouble surfing the web or watching a tv show even while in direct sunlight with the Samsung S23. The refresh rate is another important factor when choosing a new phone, and the S23 offers a variable refresh rate of up to 120Hz. This higher refresh rate means smoother navigation between webpages and apps as well as an improved gaming and entertainment experience. Movies will look more realistic and lifelike and gaming will have less lag and buffering.
However, having your refresh rate turned up all the time will drain the battery on your phone. That is why the S23 offers a variable refresh rate. Depending on what you're doing, the phone will adjust between 1Hz and 120Hz and at the lower rates your battery life will be improved.
Camera
This phone offers multiple cameras which means you have more options when it comes to getting the perfect picture. You get a 50-megapixel main camera, a 10-megapixel 3x optical telephoto camera, and a 12-megapixel ultrawide camera. Plus, the selfie camera has 12-megapixels, which is a step up from previous versions of the galaxy front-facing cameras.
Night Mode is a feature that is offered on the S23 that lets you take vivid, high-quality pictures and videos even at night. This feature optimizes color and detail, so you won't have washed out and dull photos in low lighting. Night mode can be used to take the perfect selfie or help you shoot a great video at night.
The camera app offers many amazing tools that can help you make the most out of your memories. With Single take, you can shoot multiple pictures and videos all at once. You can even choose what types of shots to capture, like collages, boomerang clips, cropped shots, etc. Based on this, your camera will decide what angle to shoot from, resulting in consistent bright and crisp photos. Food mode is perfect for taking pictures of your favorite dishes. Shot suggestions will give you on-screen guides to help you compose and line up great shots. These are just a few of the amazing tools that the S23 camera offers.
Battery + Storage
The battery life of the Samsung S23 easily holds its weight against other competitors in its price range. The impressive 3,900mAh battery lets you surf the web, play mobile games, and stream movies all day without dying. This phone gives you up to 35 hours of talk time, which is more than enough for the average user. Plus, as the phone adapts and learns your behaviors, your battery life will improve from day to day.
128GB of internal storage is offered along with 8GB of RAM. This amount of RAM is perfect for multi-tasking on your phone. You can easily switch between multiple apps without any issues such as the apps closing out on you. Having 128GB of storage is perfect for most average users. It allows you to store all your favorite music, movies, photos, and apps with ease.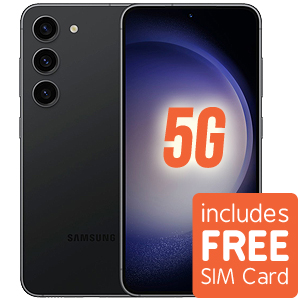 The Samsung Galaxy S23 5G is a phone that is extremely user friendly and offers many tools to help optimize its performance. Capturing memories, surfing the web, watching movies, and playing mobile games are all made easy with the S23. If you want to learn more and see purchase options from Twigby, click here.
Follow us