The Google Pixel 7 is a great new addition to the Pixel lineup that boasts a powerful new processor that makes it ultra-responsive and adaptive. These phones are more competitive than ever with their refined and enhanced features, but they still have a reasonable price tag. Now, you can take advantage of enhanced speech recognition, outstanding battery life, pro-level photos, and much more without having to break the bank. Keep reading to see why we think the Google Pixel 7 is a breakout hit at an affordable price point.
Tensor G2
Google designed the Tensor G2 chip to improve Google's performance and efficiency to help support great battery life. This chip runs Google's machine learning models with less power and latency which makes Pixel 7 faster than ever. The graphics are more polished and fluid with the help of Tensor G2's GPU (graphics processing unit) running more smoothly than its predecessor. Speech recognition is better than ever with the Tensor G2. It keeps track of the names you say like your friends, family members, and places you go. It also understands how you speak and constantly improves over time. These are just a few ways that this processor stands out in the Pixel lineup.
New Features
While the fingerprint scanner is much quicker than before, the Pixel 7 has also added a new biometric unlocking feature. Face unlock is easy to setup and lets you unlock your phone with a quick glance. Clear calling is a new feature that helps you focus on conversations by eliminating chatter. When you turn it on, it reduces the background noise of the person calling you. This means that it is easier to understand them if they are on a crowded street, in a noisy restaurant, or at a loud public event.
Pixel 7 also has enhanced the "At a Glance" feature to provide more details on your home screen. Now, you get more information about upcoming weather such as any precipitation you should expect. Along with the daily forecast, you can also see upcoming deliveries that are at the door, event reminders, and travel info like baggage claim details for your upcoming flight. These are just a few of the great new features that this phone has to offer.
Camera
The improvements to the camera are one of the top reasons why this is a great new addition to the Pixel smartphone lineup. The Pixel 7 offers a dual-rear camera system that lets you capture perfect moments in 4k color and detail. With a 92.8 degree ultrawide field of view, this front-facing camera is better than ever at fitting more people in frame. Plus, this phone has a larger sensor and sharper lens which means you can take better pictures even in low lighting. Here are some of our tips to take the best pictures on any phone.
Cinematic Blur blurs the background of any picture while keeping the subject in focus. While past Pixels could achieve this effect with Portrait Mode, Cinematic Blur on the Pixel 7 stands out because it is used with video recordings. Now you can make any of your videos feel more professional with this amazing feature. Plus, it can be used on both humans and your furry friends. Photo Unblur helps you enhance and sharpen any images that may be blurry, so that you can focus less on taking the best pictures and focus more on enjoying the moment. Magic Eraser also helps you edit your pictures. This feature lets you quickly and easily remove distractions, like strangers in the background, or change colors and brightness so an object blends right in.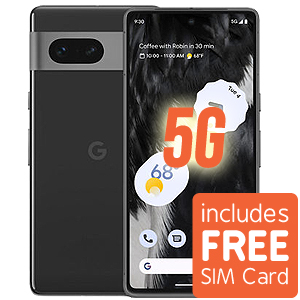 The Google Pixel 7 is a great addition to the Pixel lineup. You can get these amazing new features and tools without having to break the bank. Improved battery life, enhanced camera capabilities, smoother graphics, and faster speeds are just some of the reasons why this phone stands out. To learn more about the Pixel 7, click here.
Follow us