Ready to leave behind the contracts, hidden fees, and high price tags of the traditional big wireless companies? By making the switch to Twigby, you can save big every month, and you will never be trapped in a contract. Bringing your phone and number with you is easy too. Keep reading on how to make this quick and simple switch from one carrier to another.
Check the Coverage in Your Area
First things first, check that the carrier you are looking to switch to has coverage where you live, work, and frequently travel to. There is nothing worse than already switching phone carriers and there's little to no coverage available where you live! Fortunately, at Twigby, coverage is the least of your worries as we provide coverage from the nation's largest and most reliable network. This gives Twigby customers peace of mind that they have the best coverage available.
Confirm Your Current Phone is Compatible
You like your phone. It works just fine. Great – bring it with you. Bringing your current phone with you when switching carriers can also help you keep even more money in your pocket. Before bringing your phone to a different carrier, it's also a good idea to check if your current phone is compatible with that carrier. Remember, regardless of whether the phone is "unlocked" or not, some phones were manufactured to only work on a specific network. When a phone is "unlocked", it means it can be used on any compatible network, not that it will be compatible with every network.
When switching phone carriers to Twigby, we make it easy to see if your phone is compatible with us. By using our compatibility tool and your phone's IMEI number (think of it as a social security number for your phone), we'll let you know if you can bring your phone to Twigby or not. If it is compatible, you'll be guided through our simple check out process. We also show you how to find your IMEI number. However, if it is not compatible, no need to worry! We have great phones at even better prices, all without contracts or credit checks.
Bringing Your Number to Twigby is Easy
Let's admit it – most people don't want to have to get a new phone number. Once you have checked your coverage and determined if your phone is compatible or if you are getting a new one, the next step is to decide if you are bringing your number with you. When switching phone carriers to Twigby, it's really simple to transfer your number from your existing provider to us. We'll ask you at checkout if you're using an existing number or if you'd like a new one, and we handle the rest from there! You can transfer a mobile number or a home phone number, it doesn't matter!
If you are bringing your number to Twigby, we will need the following information to transfer (port) your number to Twigby: name and address on phone bill, phone number you want to bring to Twigby, account number with other carrier, and port out/PIN password. If you need help finding any of this information, we have compiled a list of port requirements by carrier here. Just remember that your phone number will only be eligible to port if it is currently active. If you have already deactivated it, we will not be able to port it for you.
Once Your Order Has Arrived
Once you have received your order, the set-up process is quick and easy. You will receive instructions with your order. It is important that you read through and follow all the steps. However, if you are having any trouble, you can chat with a Twigby live agent for further assistance by clicking the orange "Chat With Us" button at the bottom of your screen. Our support team is top notch and will get you up and running in no time!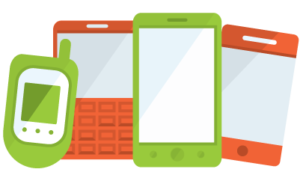 As you can see, switching phone carriers to Twigby is a quick and simple process. You only need to make a couple of decisions for yourself, and we help the rest of the way. Don't stay trapped in an overpriced contract any longer, save your hard-earned money for more important things and make the switch to Twigby today!
Follow us