Google offers lots of free tools with the convenience of using them with only one login. One of these that you may not be aware of is YouTube Music. This is an app (desktop player available too) that is a music streaming service created by YouTube and owned by Google. YouTube Music was created with the goal of making music easier to explore. They make it easy to discover new songs whether you wish to listen or watch.
You may remember Google Play Music which was discontinued back in December of 2020. If you missed that notice, on February 24, 2021 Google deleted all Google Play Music data that was not transferred to the new YouTube Music. However, it seems that the new YouTube Music app has plenty of features to love. Plus, it is free!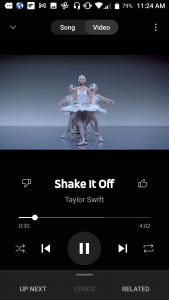 There's a whole lot of music out there. Even if you have a large music library, there are millions of new songs to discover. If you are more into playlists, the app offers thousands of those. Plus, with YouTube music, you can watch music videos and catch live performances. The app will also use your listening history to give recommendations. Your recommendations should become more accurate the more you have used the app.
You may have a music collection that spans more than a decade along with thousands of songs. Perhaps you have even ripped your old CDs and now have those music files stored on your laptop. You don't want your computer to crash and lose all of those songs. It could be a huge hassle to try and recreate your collection. YouTube Music might be the perfect solution for you. With YouTube Music, you can listen to your uploads in the background, offline and ad-free even if you're not subscribed to premium.
How To Use the YouTube Music Locker Service



How to upload:
Visit music.youtube.com
Click on your profile picture
Click Upload music
Supported file formats for uploads include FLAC< M4A, MP3, OGG, and WMA
It's simple to upload your own music to YouTube Music. Before you upload the songs, be sure they are in a supported format listed above. Need to do something else while waiting? You will see a progress bar while your music is uploading. This may take some time to display in your library. You can upload up to 100,000 songs to your YouTube Music library! This is one feature that really makes this music app stand out from the crowd. However, once you've imported your music files, you cannot download them through the website or app. Your songs will have its own dedicated section within the library tab of the app.
Other Notable Features
Thinking of the words of a song but can't remember who sings it or the song title? This app is owned by Google, so just search what you can think of. For example, type "In the time of chimpanzees", and it will display Beck's "Loser". You can also do a search for something more general like "the hipster whistling song" and the app will find what you are thinking of.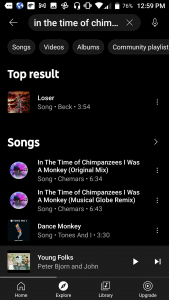 There are numerous music apps out there where you can listen to music. We recommend YouTube Music simply for the convenience of using a Google account. However, to better compete with other services, YouTube Music may need to make some updates in the future. Since the rollout of the app, they have already changed the ability to skip songs on the app and to connect your phone to speakers. With this, always be sure to look for updates to the app. If you need to stream music while using Google Maps, then Spotify's free version might be a better fit. Looking for podcasts in addition to music? Then, Spotify's free version will give you access to that as well.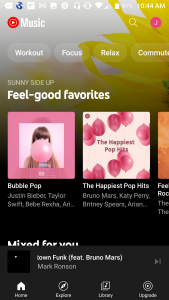 Google's service allows you to browse playlists by mood or genre. The app will also give suggestions such as the "Top 100 Music Videos" or "Workout Motivation." You can see suggestions based on weather or the current season such as "Summer Feeling" with Country Summer or Classic Rock Summer playlists.
Summary
The Good
Over 70 million tracks for listening
Music locker system: upload your own music
Search by lyrics or general knowledge of a song
The Bad
Advertisements in the free service can be intrusive
You can't switch to audio only with the free version (video required)
You can't listen to music offline, while using other apps or with your screen off on the free version
Best for: Heavy YouTube users, those who want to listen to music they've added from their own library, and Android device users
Note: You can try out premium for free with the one month trial if you aren't ready to commit to the monthly subscription price. YouTube Music Premium is a paid membership that gives you background listening, downloads and an ad-free experience for $9.99 a month.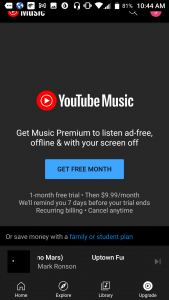 Pay attention to monthly subscriptions. They can add up quickly and cut into your monthly budget. Saving money is about making small changes that add up over time. If you haven't joined Twigby yet, see how much we can help you save each month!
Follow us