Are you thinking about putting a new phone or phone service under the Christmas tree for your kid this year? If not, maybe you should. Whether it's your child's first phone and you are showing them that you think they're ready for that responsibility or you're looking for a more affordable provider for your teenager, Twigby has you covered. As our children get older, they need to be picked up from sports practices, or you may need to message them about being late to pick them up at a friend's house, etc. This gift is a valuable asset that is used all throughout the year, not just on Christmas day. Plus, with Twigby, they will be on the nation's largest and most reliable network for less than half the price. You don't have to sacrifice your wallet to make your child happy this holiday season.
Use a Phone You Already Have
Many parents choose to hand down a phone they already have for their child's first phone. This is a great way to save when signing your child up for service. All you have to do is confirm your phone is compatible with Twigby. You can do this on our website. Most phones are compatible, so there is a good chance it will work. If compatible, we will send you a Twigby SIM Card free of charge.
Buy a Phone
We offer a variety of phone options at Twigby. You don't have to worry about breaking the bank either.  From a basic flip phone that keeps your child connected for talk and text to iPhone and Android smartphones, we offer many affordable options. Check out our phone shop for yourself.
Data and No Data Plan Options
We have many data options at Twigby. You can choose a plan with no data meaning they can only have access while connected to Wi-Fi or you can choose a plan with data so they can use it when Wi-Fi is not available. Whether your child will be a low data user, high data user, or anything in between, we've got you covered. Plus, if you ever need to adjust how much data is needed, you can quickly make the changes on our website or the Twigby app. Starting at no data and going up to 20GB of data, Twigby is sure to have exactly what you need without overcharging you for what you don't.
For a limited time,  when you sign up, you can also take advantage or our new customer offers. Plans start at just $5/month!
Controls to Help Parents Teach Responsibility
At Twigby, we try to meet the needs of both parents and children. As parents, we sometimes have to put restrictions on what our kids can do, especially with their first phone. That is why we make managing your Twigby account so easy. Additionally, we also offer guides on how to limit your child's screen time and the content they view. You can learn more about that here. No matter what kind of phone your child has, Android or iPhone, there are also extra precautions you can take to help keep their personal information safe and secure online.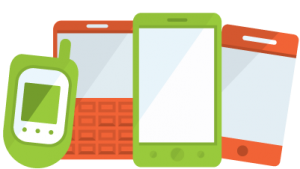 Gifting a new phone or new phone service for your kid this Christmas isn't only a gift to them, but a gift to yourself as well. Teach your child responsibility, independence, and safety while keeping more money in your pocket. As technology advances, more and more children expect gadgets and devices under the tree. However, there isn't a magic age when determining if they are ready for a phone, only a parent that knows them best can make that decision. When you're ready to make that decision, Twigby will be here to help walk you through the process. If you're considering a phone for your child, you won't regret getting Twigby as phone service for your kid – or your whole family!
Follow us