The Google Pixel 6 is a smart and powerful phone with an affordable price tag. With this Android smartphone, you don't have to sacrifice power, specs, or features for a low cost. This phone has an eye-catching design while packing a powerful punch when it comes to its performance, battery life, and quality camera. Continue reading to learn more about how this Google 5G phone seamlessly adapts to you and provides an effortless user experience.
Performance
This Pixel 6 is and Pixel 6 Pro are the first Pixel phones to come equipped with the upgraded Google Tensor SoC. With Google Tensor, Google unlocks amazing new experiences that require state of the art machine learning, including Motion Mode, Face Unblur, Speech enhancement mode for videos, and more. Google Tensor allows users to push the limits of helpfulness in a smartphone. With this chip, your phone is constantly learning the ways in which you use it and is adapting to meet these needs. This upgraded chip brings new possibilities to the Pixel 6 while compared to previous Pixel models. Google Tensor runs more advanced, state-of-the-art machine learning models but at lower power consumption compared to previous phones.
Google Assistant on Google Tensor uses the most accurate Automatic Speech Recognition (ASR) ever released by Google. And for the first time you can use a high-quality ASR model even for long-running applications such as Recorder or tools such as Live Caption without quickly draining your battery. Another way Google Tensor helps the Pixel 6 stand out is with its photography.
Tensor can handle photography tasks more quickly and efficiently which helps deliver videos that have accurate and lifelike colors. With the Pixel 6, you can expect videos that are just as amazing as its photos, and you can use these amazing photography features while consuming less power than before. Plus, this chip brings more layers of security to a Pixel phone than ever before. With these upgrades and new features that are possible from Google Tensor, the Pixel 6 offers the most bang for your buck compared to other Pixels in Google's lineup.
Battery
Nothing is worse than a phone that loses its charge quickly. When you love your phone, you don't want anything to get in the way of you staying on it for longer. The Google Pixel 6 has an adaptive battery, which helps it keeps it charge all day. With adaptive battery turned on, apps that you use less often will run less while you're not using them. More importantly, your phone can learn how you use your apps over time. This can help save battery in ways that work best for you. Extreme Battery Saver is another feature that extends the battery life of your phone. With this feature on, you choose which apps to run, and Pixel will turn the others off. This can make your battery last up to 48 hours total.
Plus, your Google Pixel 6 has a smart charging feature built into it that hopes to extend the lifespan of your battery. It's called "Adaptive Charging" and when enabled, it will charge your phone slower at times to try and hit the 100% mark closer to when you unplug. This feature along with the 6's adaptive battery, sets users up for a long lasting battery that will continue to last as the years go by. Here are some of our top tips to help your battery last longer from day-to-day use.
Camera
Just like the other Google Pixel phones, the 6 takes quality pictures with minimal effort. This phone offers accurate and vibrant color for both photo and videos, quality video stabilization, and wide dynamic range in both indoors and natural light. Along with this top-of-the-line quality, the Pixel 6 offers features that are fun to play with and make your pictures and videos stand out.
Face Unblur allows users to make faces appear more defined and sharper, which can help enhance the quality on any of your action shots. If you want to remove any unwanted elements or distractions in your photos, Magic Eraser is the tool for you. You can quickly remove objects out of any of your shots, or you can change the color and brightness of an object to make it blend into the background. Night Sight allows you to capture beautiful images in low light. Real Tone makes capturing images of skin tones more authentic and accurate.
Motion mode is also a new feature on the Pixel 6's camera that helps you make your static, basic photos more dynamic and interesting by adding blurs to denote movement. This quick adjustment can help you make any dull photo livelier and more unique. The Pixel 6 offers a great camera experience for beginners and experienced photographers alike.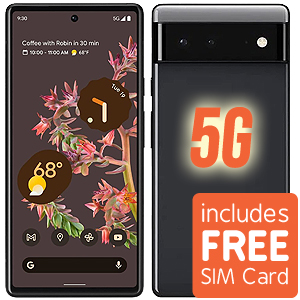 The Google Pixel 6 is for anyone who wants a phone that is easy to use and affordable but comes equipped with great power. Google prioritizes usability, security, and camera quality and this phone is a great example of this. You don't want to pass up on the 6's power, adaptability, and helpfulness. To learn more about the Google Pixel 6, click here.

Follow us