The Nuu Mobile F4L Flip is a great low-cost option for anyone who wants an easy-to-use phone. The F4L Flip offers the same features that are standard for flip phones on the market at a fraction of the price. The phone is designed with usability in mind. This phone has all the features you need, and some standout ones, without too many extra bells and whistles that are hard to use and only add to the price.
Design
Once opened, a large display screen and easy-to-press buttons are revealed. The phone also has a standard headset jack on the side. Nuu Mobile's official website guarantees 100,000 flips for this sturdy flip phone. The flipping mechanism is strengthened for both durability and minimal noise when flipped closed. The front has a screen that shows you the date and time. There are also lights on the front of the phone that blink to notify you if you have a new notification or if your phone is low battery – all without having to open the phone.
Features
The phone comes with an ample 2MP camera, and an envelope and battery icon on the front of the phone. If flashing green, the envelope lets you know you have a new message. If flashing red, the battery icon lets you know that your battery is low. These icons easily allow you to be notified without having to open your phone. A second camera can be found once opened. A selfie camera lens is a unique feature for a flip phone, and that is one of the reasons the F4L gives a lot of bang for its buck. Five easy to hear ringtones come preloaded on the phone as well, and more can be recorded or downloaded. Most importantly, the F4L has clear call quality and has a loud speaker and enhanced volume settings.
Apps
Surprisingly enough, this flip phone comes with apps preloaded on the phone. Such as an Android web browser, picture messaging capabilities, FM Radio and Bluetooth for connecting to your car or headphones. The apps allow you to stay connected in more ways than just standard calling and texting.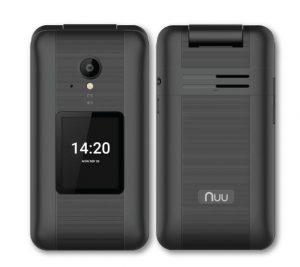 The Nuu Mobile F4L Flip is for anyone who wants a phone that is easy to use and performs the way that a flip phone should. Call quality, volume, and easy usability are some of the most important things for a flip phone, and the F4L Flip excels. The inclusion of helpful apps gives users a taste of the offerings of a smartphone without the extra complexities that come with one. The F4L Flip is a great choice for kids and adults alike. To learn more about the Nuu Mobile F4L Flip, click here.

Follow us