With so many people across America staying at home over the past couple of months because of COVID-19, we thought it would be prudent as a cell phone service provider to try to learn more about phone habits while being confined to home. This way we can better keep to our core principle – being completely customer-centric. While we are always mindful of costs and efficiencies, our decisions are guided by how we can best meet the needs and wants of the value-seeking shopper here at Twigby.
According to our May 2020 survey results from over 2,200 respondents, many people's phone habits have increased in some areas and decreased in others. An impressive 47% stated there had been no change in their phone habits. Surprised? We were too. Let us look at the results.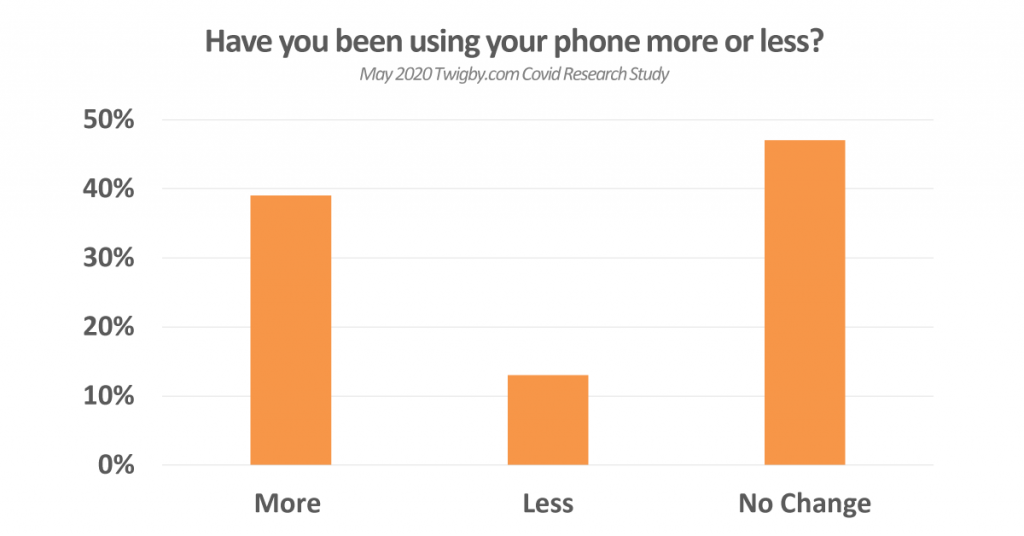 (Click to enlarge)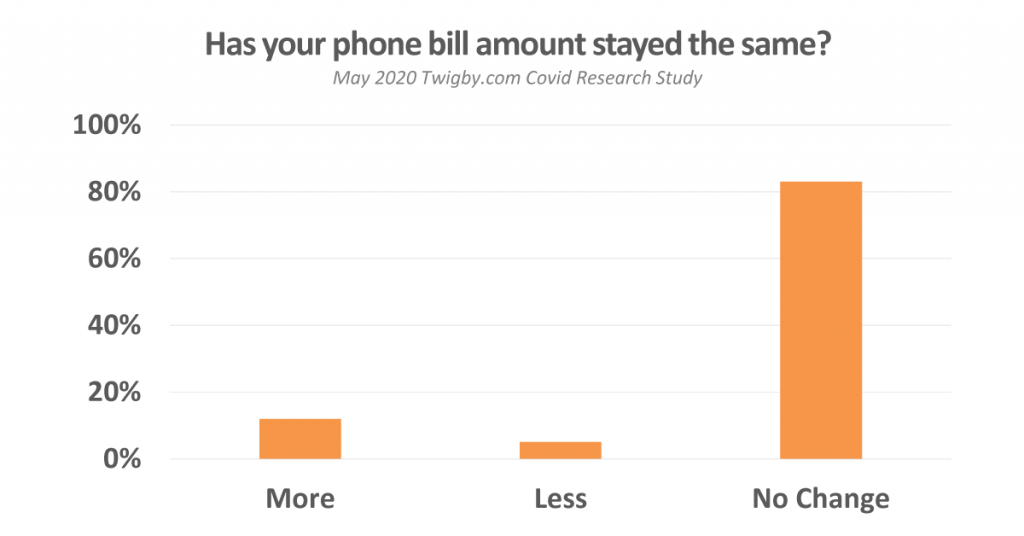 (Click to enlarge)
Phone technology has changed tremendously over the last two decades, and COVID-19 has changed our reliance on technology as remote learning and working from home has increased. According to our new data, 39% of survey participants have been relying on their phones more due to social distancing mandates. The survey asked participants to relay if they are depending on their phone service more, less or with no change during the COVID-19 outbreak. The results reveal that the pandemic has affected phone usage with large increases in app usage, texting and calling.
We also asked about habits such as cleaning a phone due to current recommendations with the pandemic.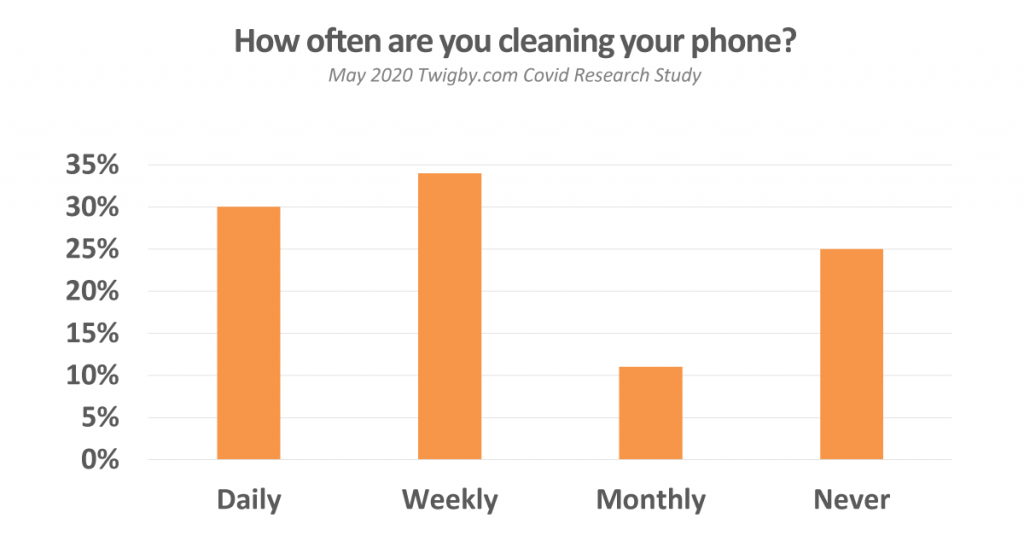 (Click to enlarge)
While many people across America are staying at home over the past couple of months, others are essential employees with little change in current phone habits.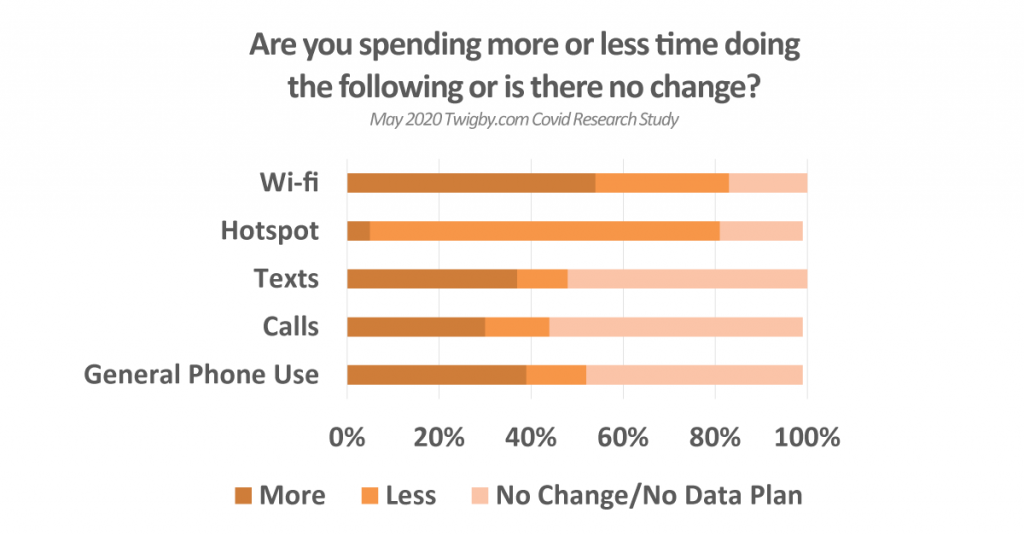 (Click to enlarge)
Considerations for Phone Upgrades
The survey showed most people, during these times, will only consider upgrading their phone if the current one stops working like it did in the past.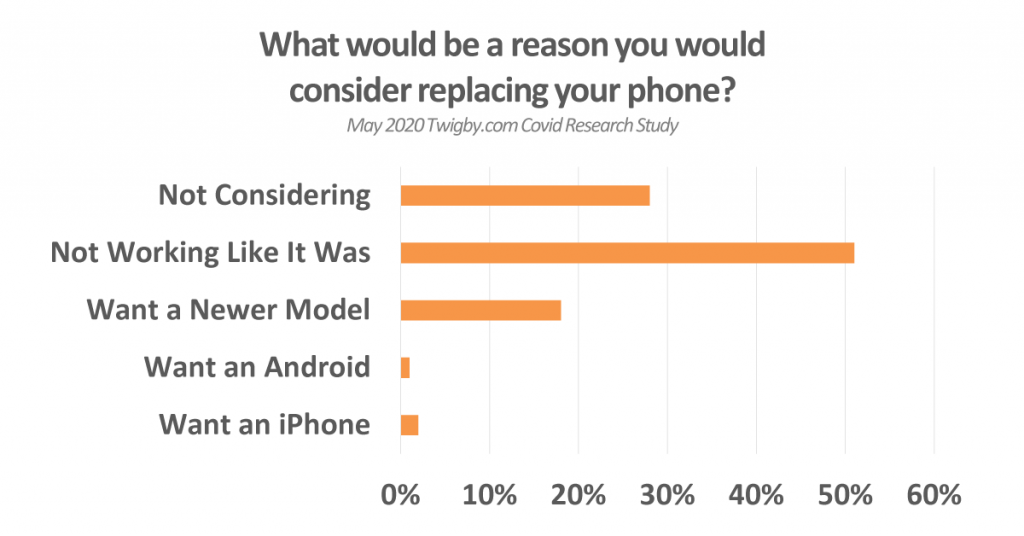 (Click to enlarge)
In addition, the majority relayed they would only spend between $100-$200 for a new phone if needed.
(Click to enlarge)
The results showed 26% of people have not upgraded since more than two years ago.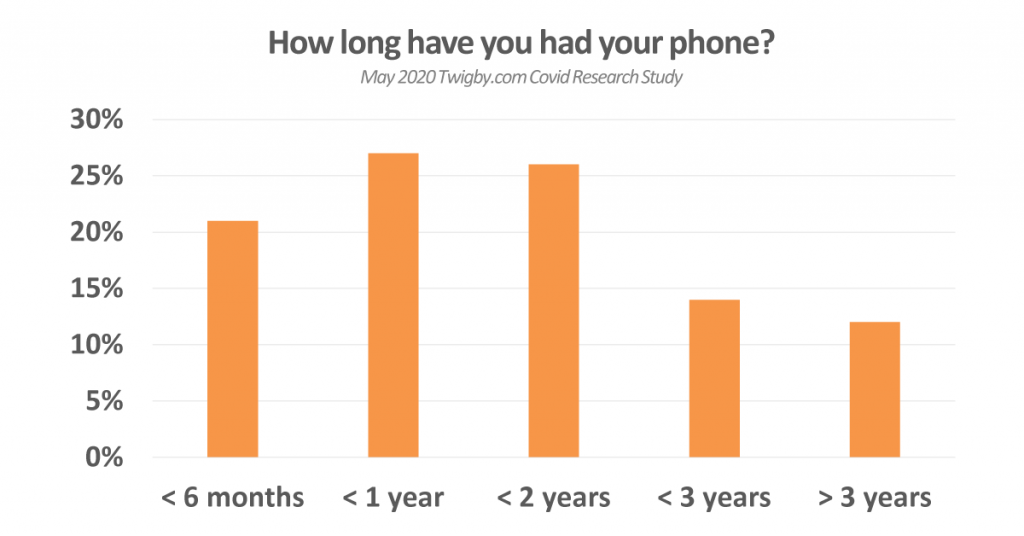 (Click to enlarge)
Additional Findings:
Nearly a third of all respondents said they are cleaning their phone daily and another third weekly
More than a third (37%) are texting more and listening music
Overall video calling usage is up (32%)
36% of respondents indicated using social media more
23% of people surveyed indicated using shopping apps more
Only 12% plan on purchasing a new phone soon
App Usage and Staying Connected
Overall, the results demonstrate a major shift in phone usage since more people are staying at home during COVID-19. While many reported they had no changes in the phone's usage, many reported they were relying on Wi-Fi more for data usage while staying at home. There were increases in shopping, video calling, social media, gaming and food delivery app usage.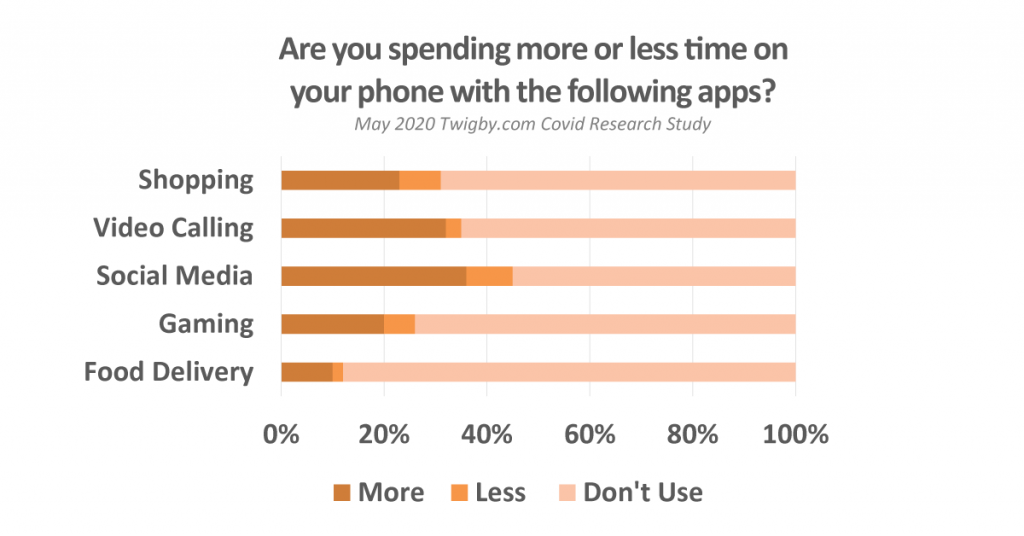 (Click to enlarge)
Twigby is a Phone Service That Changes With Your Needs
If you are considering switching phone service, we understand that you may think it is a daunting task. There are many factors to consider. However, our research has shown that getting high-quality customer service and great coverage are two of the major factors to take into consideration when considering switching providers. At Twigby, we have an entire team of real people, not one of those automated attendants, ready to assist should you happen to have a question. Plus, you get coverage on the nation's largest and most reliable network. So why pay a premium for subpar customer service and OK coverage?
Twigby is an online company. With this, we can help you lower your cell phone bill with our plans. This is how we can offer service prices and savings well below other wireless providers. Our customers save by only paying for what they need with customized plans for each line on an account. We're confident you won't regret the switch to Twigby. That's because we want you to get the most value for your money. Don't forget, you can easily keep your number and we also offer a 30-day guarantee! So, what is the main reason value-conscious consumers are choosing Twigby? One word: savings.
Follow us