The Nuu Mobile X6 Plus is described on Nuu's official website as a "feast for the senses", and here at Twigby we believe it delivers as promised. This surprisingly low-cost smartphone comes jammed packed with features. It stands out as one of the top-contenders for the best phone for everyday use. Not only was this phone designed with usability in mind, but it was also made to handle your modern entertainment needs. Whether you're surfing the web, streaming videos, or playing a game, the X6 Plus handles it all.
Display & Memory
The X6 Plus has a screen-to-body ratio of 80%, HD+ resolution, and brightness of up to 500 nits. What does that mean? These features work together to give you a truly immersive experience when using this phone. The 6.1" HD touchscreen display is perfect for both business and pleasure. The drop notch display provides users with more screen space for easier viewing. This inviting high-quality display makes watching, playing, and sending messages effortless.
Easy to use Face Unlock and Fingerprint sensors are included. With this, your important messages, apps, and content are kept safe and secure. Plus, with 3GB of RAM (which is memory for your phone), downloading work presentations is a breeze. The phone comes with 32GB of storage and supports a 64GB microSD.  This is perfect for both the avid game user and the dedicated video chat host. The Nuu Mobile X6 Plus is a great option for those who want a phone that can keep up with all aspects of their daily use and future needs.
Camera
Mobile phones are constantly competing to be crowned as king of camera phones. However, with more camera features being constantly introduced on the market, price tags are rapidly increasing. This phone is a perfect choice for anyone who wants more than just the basics while still being affordable. The Nuu Mobile X6 Plus comes equipped with a high-grade Samsung (yes you read that right) 13MP sensor and 5P lens. Along with an aperture of F2, this camera maximizes incoming light, increases sharpness, and lowers optical aberrations.
These elements work together to create cohesive shots that are high-quality. You can expect over 13 million pixels of detail per photo since the rear camera has a resolution of 4224×3136. The phone also comes equipped with contrast detection auto focus which allows you to take quick action shots that are in focus. Whether you're sharing your pictures on social media, displaying them on your computer screen, or sending them to friends and family, your pictures are sure to stand out.
Android 10
The Nuu Mobile X6 Plus runs on the Android 10 system. It includes all the Android smartphone apps you have come to love. Plus it comes equipped with tools and features that help you control your privacy, customize your phone, and get things done exactly how you want them. With Android 10, smart controls allow you to be in control of how and when your personal data is shared on your phone. All privacy settings can be found in one place, and you can easily opt out of ad retargeting and personalization. This system also gives you faster security updates. With Google Play system updates, security and privacy updates will be sent directly to your phone from Google Play. This is just like a normal app update, so you get these fixes as soon as they are available.
Other Features
Digital Wellbeing is a way for you to find the perfect balance between using your phone and unplugging for the rest of the day. This tool helps you create healthy habits so that you can step away from your phone when needed. Focus mode allows you to block out distractions by selecting apps to temporarily pause. Get in the zone and eliminate any interruptions that are stopping you from getting your work done with one simple tap.
Dark theme is a display setting that allows you to turn your screen and first-party apps dark. This can help reduce eyestrain for those who spend a lot of time on their phone. It also makes phone use at night or in dark environments more comfortable. Additionally, it helps conserve battery power, which enables device usage for longer periods without charging.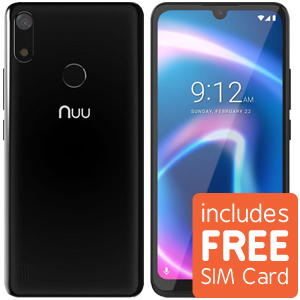 The Nuu Mobile X6 Plus is a great choice for anyone who wants a low-cost option that comes packed with features. This phone is great for someone who wants to have fun surfing the web or those who need to get down to business. To learn even more about the Nuu Mobile X6 Plus, click here.
Plus, get a FREE case and screen protector when you purchase the Nuu Mobile X6 Plus (mailed from Nuu Mobile. Instructions within phone box).
Follow us