The Moto G Pure is a great choice for anyone who enjoys top notch features at a reasonable price. This smartphone is an easy-to-use phone that delivers quality, speed, and power with a price tag that won't break the bank. Whether you are buying a phone for your child or yourself, the Moto G Pure is one of our top contenders for the best all-around phone at an affordable price. This phone offers stunning visuals, smooth performance, and a long-lasting charge that stands out against its competitors. Keep reading to learn more about the value that the Moto G Pure can offer to your everyday life.
Display
Do you like to play games, stream movies and tv shows, or even just surf the web? The Moto G Pure offers an ultra-wide screen that is sure to enhance the videos and graphics you are viewing. With a 6.5" Max Vision HD+ display, this phone offers visuals that are bright and crisp. Plus, here are some of our favorite games to play with your family on a smartphone!
Secure and Powerful
Easy to use Face Unlock and Fingerprint sensors are included. With this, your important messages, apps, and content are kept safe and secure. Plus, with 3GB of RAM (which is memory for your phone), downloading your favorite apps is quick and easy. The phone comes with 32GB of storage and supports a 512 GB microSD card.  This is more than enough storage for avid movie watchers and mobile game players. This phone is an affordable, first-rate option for anyone who wants a smartphone that can keep up with all aspects of their daily needs. From entertainment, to storage, to security, and much more, the Moto G Pure has you covered.
Camera
The Moto G Pure has a 13MP primary, back camera sensor, along with a 2MP depth lens for portrait mode. The phone's front-facing camera uses a 5MP sensor as well. What does this mean? This smartphone produces color accurate photos with prominent details that create a solid, cohesive image.
While these are great qualities and specs for a phone at this price point, the Moto G Pure includes some additional photo centric features that help it stand out. Such as you can add a professional look with the depth sensor, adjust the background blur for beautiful portraits, cut out and rearrange and even add spot color! Here are some tips to help you take great pictures with the Moto G Pure.
Battery & Other Features
This phone can stay charged for up to 2 days at a time. This is great for anyone who is always on the go or for situations when charging isn't possible. Once you need to charge again, you can power it up quickly with rapid charging. Another great feature for people who have busy lives is the Moto G Pure's water-repellant design. While you can't submerge it in water, the water-repellent design creates a barrier to help protect against moderate exposure to water such as accidental spills, splashes, or light rain. This is great for anyone who has kids, spends time outdoors, or who is always on the move. If you do accidentally submerge your phone, don't worry, here is a guide to help you.
The Moto G Pure runs on Android 11. This operating system was designed and optimized with usability in mind. Users now have access to powerful device controls which makes managing conversations and privacy much easier. You can give one-time permissions to any of your apps that access your mic, camera, and location. As soon as you use the app again, these permissions will be displayed once more. This allows you to stay protected and secure by giving you more of a choice. Android will also reset permissions for apps that you haven't used in a while.
Moto Actions are included with Motorola's updated My UX interface. Moto Actions allow users to make gestures that are simple and quick for common functions on the smartphone. For example, you can tap the display with 3 fingers to take a screenshot, flip your phone over onto a surface for do not disturb, flick your wrist twice to turn on the flashlight, and much more.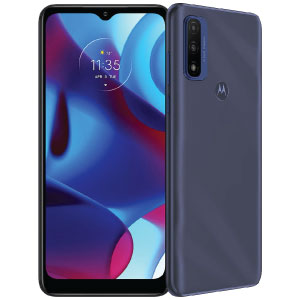 The Moto G Pure is for anyone who wants a feature-rich smartphone that is easy to use and at a bargain price. Display, camera, and battery are some of the most important qualities to consider when choosing a phone, and the Moto G Pure excels in all categories. To learn more about the Moto G Pure, click here.

Follow us