The TCL A30 is the number one selling smartphone on our website for a reason. This phone is packed with features to ensure you get the most value for your money. With this phone, you can get many great features of a more expensive smartphone but for a fraction of the price. At a very affordable price tag, the TCL A30 offers a high-definition display, long-lasting battery, quality cameras, and more.
Visuals
The 5.5" HD display not only has vibrant and sharp visuals, but it also has adaptive brightness. This feature is beneficial to users because it helps reduce battery consumption and reduces the stress on your eyes. So, what exactly is adaptive brightness? Adaptive brightness aims to prevent the common situation in which you must manually adjust the display brightness using an on-screen slider that then later makes the display look too washed out or dim as your light conditions change. Through sensors built into the phone, the TCL A30's brightness automatically becomes brighter in brighter environments, and dimmer in darker ones.
Facial Recognition & Storage
TCL A30 users can access their phones with just a glance by using facial recognition. This saves time when unlocking the phone, and allows you to access social media updates, apps, calls, and emails more quickly. This phone has 32GB of built-in storage and has a memory card slot of up to 64GB.
Customers do not typically have to worry about running out of storage. If you are good about deleting unnecessary pictures, old screenshots, and apps that are no longer in use, 64GB is enough to get the most bang out of your buck. With 64GB of storage, you can take pictures, record videos, stream music and videos, and download any apps you desire. The more storage you have, the more expensive your phone will be. 64GB is the amount of storage that most people feel comfortable with. Plus, with Google's operating system, you can back up your photos to your free Google drive to free up space on your phone.
Photo Quality
This phone has two cameras, an 8MP LED flash rear camera and a 5MP front camera. The rear camera has a Pro Mode which allows you to take sharp, steady, and high-definition photos and videos quickly and easily. The front camera also has a standout feature, Portrait Mode. With Portrait Mode, selfies can be transformed into stylish portraits that have a blurred background. The blurred background brings more attention on to the subject of the camera, which is you in your selfie!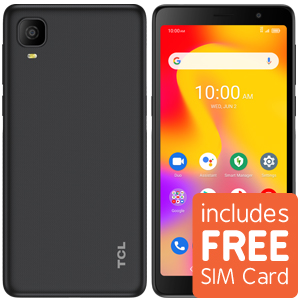 The TCL A30 is a phone that stands out among the competition. At a fraction of the price, it has some of the features that the more expensive smartphones on the market have. This phone is perfect for any age and is great for anyone who wants a phone that goes beyond basic calling and texting. You can learn more about the TCL A30 by clicking here.
Follow us