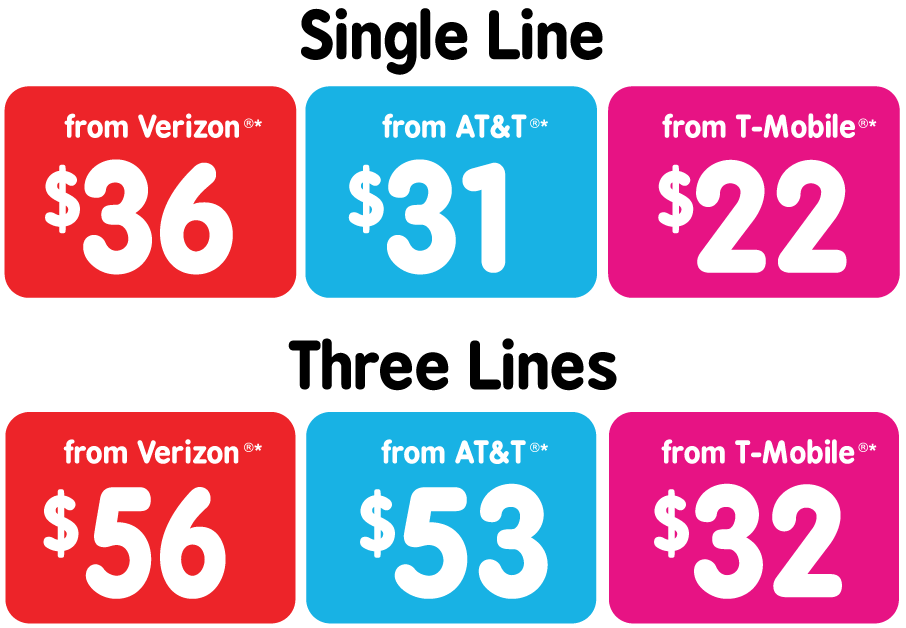 Did you know that on average, you could save $29 each month when you make the switch to Twigby? That's $348 per year! Even better, when you switch the whole family to Twigby, your savings are even more. The average savings for families when switching to Twigby is $47. What could your family do with an extra $564 each year?
Want to know how much lower your monthly bill can be? Read on, and see what you can save!
How to Use the Twigby Savings Calculator

To use the Twigby Savings Calculator, start by selecting how many lines will be on your account. If it's just you, it will be one. If you have the whole family, you can have up to 10 lines on a Twigby account. Next, you'll select your current provider. Then you'll see some bars appear depending on how many lines you selected. Use the slider to estimate how many minutes and how much data you use in one month. This will help determine which of Twigby's plans you would need. Lastly, click the orange "Calculate" button to see your results!

How to Read Your Results
After the Savings Calculator works its magic, you'll get your results. This will show you how much you can save each month by switching to Twigby! Even better, you will see how much can be saved in one year.
Below that, you will see a break-down of which plan each line would be on. For example, if your estimated use is 400 minutes per month and 1.5 GB, you would need the plan with 500 minutes and 2GB. Lastly, you'll see your total bill for all lines put together.
Next Steps to Save with Twigby
After you see how much you can save, the next step will be to sign up for Twigby! The process is simple. Our website will walk you through the steps to signing up one-by-one. First you will select if you are shopping for a new phone or if you are bringing your own phone. Then you will select if you are transferring your current phone number or getting a new phone number. Finally, just select the perfect plan to fit your needs, and you're all set!
The best part about our sign-up process is how easily you can access help if and when you need it. On every single page as you go through the steps, you will see an orange "Chat Now" button at the bottom of the page. Using this will let you access live chat with our highly-rated customer support team.

Why Twigby?
Being a Twigby customer has many perks in addition to how much you will save each month. You are covered by the nation's largest and most reliable network.

We have a super simple, easy-to-use Self Care. This is were customers access their online account. In Self Care, you can customize your plan to fit your every need. You can change your plan amount, limit data speeds, turn Overage Protection on (this is a FREE feature), and many more options. Read more about Self Care in our blog!

In addition to all of this, Twigby customers get rewarded when their friends sign up for Twigby! For every friend you refer, you will also get a bonus thanks to our Referral Rewards program! To top it all off, we offer a 30-day satisfaction guarantee. You have 30 days to try out Twigby, and if you aren't 100% satisfied, the cost of your plan and your phone (if one was purchased) will be refunded.
The Savings Calculator has quite a bit of insightful information, so what are you waiting for?

* All savings averages are based upon entries to the Twigby Savings Calculator in 2021. Verizon, AT&T, & T-Mobile are trademarks of Verizon, AT&T, & T-Mobile.
Follow us