Kids smartwatches are usually an alternative for kids when the parent feels that their child is not ready for their first cell phone just yet. However, a cell phone could be a much better choice than a smartwatch for your child. There are many things to consider when shopping for your child's cell phone. Should it be a basic phone or smartphone, Android or iPhone, and the list can go on. We understand a parent's concerns with a cell phone being in the hands of a child. Rest assured, parental controls on cell phones can help alleviate worries a parent may have.
Why aren't kids smartwatches ideal?
For starters, kids smartwatches can be very pricey. Kids smartwatches are also limited to how many phone numbers they can be in contact with. For example, some watches only allow parents to pick up to 10 phone numbers that can be in contact. Safety can be a concern when it comes to kids smartwatches too. When using the watch for voice calling, the conversation is on speaker the entire time. Surrounding people can easily hear and eavesdrop on the conversation if they wanted to. Some smartwatches are also vulnerable to being hacked. The watch being hacked can allow strangers to track the child and even communicate with them without parents' knowing.
A Basic Starter Phone with Parental Controls
The Sonim XP Strike is the perfect kids cell phone that has many advantages over kids smartwatches and other similar devices that do not have the simple capabilities of a cell phone. It's small size and simple, built-in parental controls are ideal for a kids first cell phone. The Sonim XP Strike is also nowhere near as pricey as kids smartwatches. Check out our phone shop to see how much you can save on the Sonim XP Strike.
Call Controls
The built-in parental controls on the Sonim XP Strike for calling gives the parent two options for call restrictions. The parent can either choose "Allowed" or "All contacts". "Allowed" will let the parent select numbers from the phone's contact list that are able to call the phone. "All contacts" will let all of the numbers in the phone's contact list to call the phone. Additionally, the phone will be able to make a call to 911 although it is not programmed into the contact list.
Message (Text) Controls
As for text messages, this setting can be ON or OFF. ON meaning the phone cannot send text messages but it can still receive text messages from any number. OFF meaning the phone can send and receive text messages to/from any number.
Location
Location is also a control that's built into the Sonim XP Strike. With location OFF, the phone can't be located remotely. When location is ON, the phone can be located using triangulation which is only used by authorities. Please note that location is for emergency service tracking only (police department, first responders, etc). The location/GPS built in the Sonim XP Strike cannot be used for parents to track the location of their child.
With these parental controls, the settings are password protected. This assures the child cannot accidentally edit the restrictions that the parent has put in place. For more information about the Sonim XP Strike's parental controls, click here.
Android Smartphones with Free Parental Controls from Google
For Android smartphones, there is a great parental control app that can be downloaded from the Google Play Store. That app is Google Family Link, and it's free! The Google Family Link app allows parents to set digital ground rules by allowing or blocking apps, setting screen time limits, tracking your child's location, and managing what can be discovered online.
Allow or Block Apps
When the child is downloading an app, they have to ask the parent for permission to download. The child is prompted to choose to "Ask Now" or "Ask in a Message". The parent will then receive a notification on their own phone to review the app and approve or deny the download request. Additionally, you can remove apps from the child's phone that was previously approved. The parent can re-approve access to an app as well. Settings can even be created for the Google Play Store. Parents simply choose what the child can browse and download on the Play Store by category (apps & games, movies, TV, books, music).
Screen Time
Screen time allows parents to set daily limits on how long the child can use their phone for the entire day. Limits for screen time can be as specific as managing how much time can be spent on certain apps. Bedtimes can also be created with screen time. When screen time limits are met, the smartphone will lock. The child will not be able to unlock the phone to use it or see any notifications. If the phone is locked for meeting screen time limits, phone calls can still be answered. Your child will still have the ability to tap "Emergency" to make a phone call as well. Furthermore, the parent can unlock or lock the child's phone at any time. The Google Family Link app also provides parents with app activity reports to see which apps are being used the most by their child.
Location Tracking
With the Google Family Link app, parents have the ability to track their kid's location. When tracking their location, a map is shown that can be expanded and zoomed in or out. The child's phone must be on and connected to internet in order for their location to be shown. If not, it will simply show the child's last known location.
Managing What Can Be Discovered Online
Parents can manage what websites their child has access to in the Chrome internet browser. You can limit your child to visit specific websites you're comfortable with or block specific websites you don't want them to visit.
To learn more about the Google Family Link app, go here.
Apple iPhones with Built-In Parental Controls
iPhones running iOS 12 and later come with built-in parental controls. Much like the Google Family Link app for Androids, iPhone's parental controls allow parents to manage screen time, apps, track location, and more. Just remember, you simply need any iPhone that has iOS 12 or later.
Screen Time
Screen Time can be found in the iPhone's settings and is where all of the parental controls reside for the phone. It also provides parents with daily and weekly activity reports of the child's iPhone. The reports show how much time was spent in individual apps and on the phone. An option in Screen time is Downtime. Downtime lets parents schedule blocks of time when the iPhone can't be used, such as at bedtime or dinner. Notifications will not be seen during downtime. However, the iPhone can still make phone calls during downtime in case an emergency occurs.
App Limits
The App Limits setting is where parents can set limits as to how much time can be spent in an individual app each day. Even during downtime or after a time limit has been spent, parents can set certain apps to always be allowed. It may be a good idea to always allow some apps such as the alarm clock. It is also possible to give your child access to only apps, websites, music, web content, and movies that you deem appropriate for them. Plus, you can prevent your child from installing and deleting apps, making in-app purchases, and more.
Location Tracking
If you and your child both use an iPhone, you will be able to track their location from your own iPhone. You would simply use the Find My Friends app (for iOS 12) or Find My app (for iOS 13) that comes automatically installed on iPhones. From your iPhone, you will first request that your child's location be shared. Next, our child will need to approve the request. Once that is done, you will be able to see their location in the app if their iPhone is on and connected to internet. To make sure that your child isn't able to hide or turn off their location, you can do this in the Settings under Screen Time.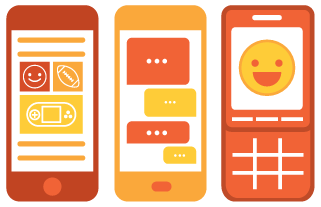 In addition to the parental controls for the different phones we mentioned, Twigby also provides parents easy access to simple plan usage tracking tools and custom service filters. You can turn calling, text, and data on or off from the Twigby app or from our website.
We understand that buying your child a cell phone is a serious decision that requires a lot of consideration. Whether you are opting for the simplicity of the Sonim XP Strike or a smartphone with more technology, we hope you feel informed on getting the perfect cell phone for your kid paired with parental control tools to keep you at ease as a parent. Learn more about Twigby plans for Kids here.

Follow us