The Google Pixel 6a is a smart and powerful phone with an affordable price tag. With this Android smartphone, you don't have to sacrifice power, specs, or features for a low cost. This phone has an eye-catching design while packing a powerful punch when it comes to its performance, battery life, and quality camera. Continue reading to learn more about how this Google 5G phone seamlessly adapts to you and provides an effortless user experience.
Performance
This Pixel 6a is equipped with the same Tensor chipset that powers Google's flagship phones. Security, speed, and machine learning are the priorities that Google had in mind when designing Google Tensor. Google Assistant on Google Tensor uses the most accurate Automatic Speech Recognition (ASR) ever released by Google. Apps also launch faster, images and browser pages load more quickly, and everything runs more smoothly with Google Tensor. The Titan M2™ chip works with the Tensor chip to provide an extra layer of hardware security which helps protect against attacks. Although Google Tensor can also be found in the Pixel 6 and Pixel 6 Pro, the Google Pixel 6a costs hundreds less than those options. Get the same power as other top of the line Google phones but at a price that stands out.
Battery
Nothing is worse than a phone that loses its charge quickly. When you love your phone, you don't want anything to get in the way of you staying on it for longer. The Google Pixel 6a has an adaptive battery, which helps it keeps it charge all day. With adaptive battery turned on, apps that you use less often will run less while you're not using them. More importantly, your phone can learn how you use your apps over time. This can help save battery in ways that work best for you. Extreme Battery Saver is another feature that extends the battery life of your phone. With this feature on, you choose which apps to run, and Pixel will turn the others off. This can make your battery last up to 72 hours total.
Camera
Just like the other Google Pixel phones, the 6a takes quality pictures with minimal effort. This phone offers accurate and vibrant color for both photo and videos, quality video stabilization, and wide dynamic range in both indoors and natural light. Along with this top-of-the-line quality, the Pixel 6a offers features that are fun to play with and make your pictures and videos stand out.
Face Unblur allows users to make faces appear more defined and sharper, which can help enhance the quality on any of your action shots. If you want to remove any unwanted elements or distractions in your photos, Magic Eraser is the tool for you. You can quickly remove objects out of any of your shots, or you can change the color and brightness of an object to make it blend into the background. Night Sight allows you to capture beautiful images in low light. Real Tone makes capturing images of skin tones more authentic and accurate. The Pixel 6a offers a great camera experience for beginners and experienced photographers alike.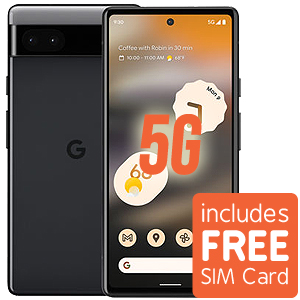 The Google Pixel 6a is for anyone who wants a phone that is easy to use and affordable but comes equipped with great power. Google prioritizes usability, security, and camera quality and this phone is a great example of this. You don't want to pass up on the 6a's power, adaptability, and helpfulness. To learn more about the Google Pixel 6a, click here.

Follow us